Birth pangs of new nation
(2011-04-28)
By Zhang Haizhou (China Daily)
Updated: 2011-04-26
In the latest of his special reports from Sudan, Zhang Haizhou takes a look at the big challenges south Sudan faces as it prepares to become the world's newest nation on July 9
Reporter Garang John, 24, walked into his workplace, Southern Sudan TV (SSTV), the only TV station in the region, on an afternoon in late March. When John entered the studio, he pointed to the logo "Southern Sudan TV" on the desk. "It will be changed! Sure!" John said. "Southern still means part of something. It'll be South Sudan TV." On July 9, the region is going to split from Sudan and formally declare independence as the "Republic of South Sudan". What John did in the TV studio was just one example of an entire population that is preparing for independence.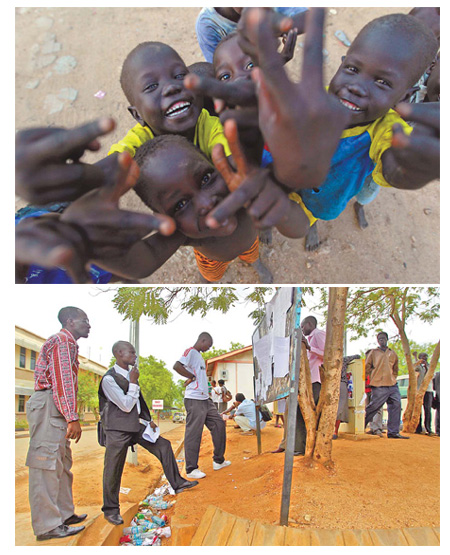 Top: Children smile in front of the camera in Juba, southern Sudan, on March 22. Above: Men check a notice board for job opportunities outside the information ministry in Juba on March 21. [Photos by Cui Meng/China Daily]
It's easy to change the name of a TV station, but it is much harder to create a new country.
With less than three months to go, south Sudan faces tremendous challenges after more than 50 years of civil wars with the central government in Khartoum.
Khartoum and Juba signed the Comprehensive Peace Agreement in early 2005 to end the civil war.
Six years on, as a new country, south Sudan will basically be starting from scratch.
Statistics from the UN Deputy Resident and Humanitarian Coordinator in Southern Sudan Lise Grande show how tough these challenges are.
The region has the highest maternal mortality rate in the world, with one-in-seven women dying in childbirth or pregnancy.
A fifteen-year-old girl has a higher chance of dying in childbirth than graduating from school, as more than 90 percent of southern Sudanese women are illiterate.
But, said Grande, the "major plague" afflicting the people of south Sudan is food insecurity, which, according to her, is the top issue the south Sudan government should address.
The UN World Food Program fed 4 million people, almost half of the total population, in 2010, she said.
"This year the UN is going to be feeding 1.4 million people. Even in a good year, 20 percent of people in the south suffer from food insecurity," Grande added.
But even though so many suffer from hunger, some people are still able to live well.
Nearby the Nile, groups of people, young and old, locals and foreigners were sitting in the Da Vinci Lodge, the city's best restaurant, having dinner and enjoying live music.
Outside, Hummers, Toyota Prados and V8s filled the parking lot.
At the Da Vinci Lodge, a two-course meal for four would cost almost $150.
Spending $150 on a dinner is something that Bakheit Fursha could probably never even imagine.
The 60-year-old, who recently retired from a government job, now gets a monthly pension of $35.
That is pretty much the entire source of income for his family of five, including his unemployed wife and 21-year-old son, and two daughters.

From top to bottom: A man builds a home in Abyei, a disputed area between south and north Sudan, on March 23; A security guard on duty near the parliament building in Juba, southern Sudan, on March 27; Jerome Ganago, from southern Sudan, wears a crucifix while chatting with his friends in Khartoum on March 28; Two teenagers play soccer in Juba on March 21. [Photo/China Daily]
While Fursha was chatting about his family life and his views on the new country in a residential area of Gonya in northern Juba on a late March afternoon, his wife was crouching meters away, preparing dinner on a stone hearth.
Their dinner was just a pot of stewed green beans with some pitta bread, a typical main course for southern Sudanese.
Fursha said his monthly pension could only manage to cover the family's total expenses for a week.
The lucky thing for the Fursha family is that Bakheit's father-in-law has a small farm in suburban Juba, from where they can get some vegetables.
For those who don't have access to a farm, life can be hard even though they may have a better-paid job.
Another resident of Gonya, Alice Keje, 54, can earn up to $105 a month as a civil servant.
But her life is no easier than that of the Fursha family as she has seven children to feed, including a 15-year-daughter who already has twin boys.
Keje said her big family normally has one meal a day, and she does some part-time jobs to earn extra money.
"We are hungry," Keje responded, when asked what her biggest challenge is.
Relieving hunger is definitely on the agenda of south Sudan's leading party, the Sudan People's Liberation Movement (SPLM).
The party, at a five-day Economic Reform Workshop in mid-March, urged the people of southern Sudan to change their attitudes toward certain jobs, adding that it's time to focus on agriculture.
The agricultural sector is the cornerstone of the SPLM's three strategic policies of poverty eradication, sustainable economic growth and integration into the regional and global economies, according to a south Sudan document.
Lacking domestic infrastructure, south Sudan depends mainly on food imported from neighboring countries.
"We have enormous resources, and agricultural resources that need to be revived," said south Sudan Information Minister Barnaba Marial Benjamin, the government's spokesman.
"There is fertile land, which requires a lot of organic farming. There's tea, coffee, tobacco and rice."
Hunger is not the only challenge facing south Sudan, with little infrastructure left undamaged by the war, no government supply of water and electricity, and insufficient healthcare and schooling.
Developing agriculture is not only a big task for the government of south Sudan, it's an important starting point for this war-devastated economy.
Developing agriculture is not just about alleviating hunger, but "how to diversify its economy after oil", said Daniel Large, a Sudan expert at the School of Oriental and African Studies in London.
"Oil will not last forever," Large said. "Agriculture is the main sector right now, and will be important in the future."
Oil currently accounts for 98 percent of south Sudan's total revenue. Benjamin also sees the necessity to diversify the economy once independence is proclaimed in July.
Apart from agriculture, Benjamin said south Sudan urgently needs better infrastructure.
"Building infrastructure here is a challenge. Renovation of buildings, obtaining tables and chairs, setting up a government and civil service, all of this. We have great challenges," he said, adding that the region needs to build roads to connect its towns.
The only tarmac road in south Sudan is a 68-km stretch around Juba and, apart from there, it's hard to find another airport with a tarmac runway.
In Juba, even the biggest hotel is a prefabricated structure, while the tallest building in south Sudan is a six-story hotel.
Despite the major economic challenges facing south Sudan, Benjamin is optimistic about the future, saying that it is a "rich territory".
When Sudan splits, about 80 percent of its oil, according to Benjamin, will be in the south. Apart from agriculture, he said the land has "enormous" water resources as the Nile flows through it.
"We have got a great deal of wildlife. We have to build tourism," Benjamin said.
He added that south Sudan is a "virgin land", adding that the government welcomes international investment and the future country's economic policy will be "liberal".
Security challenges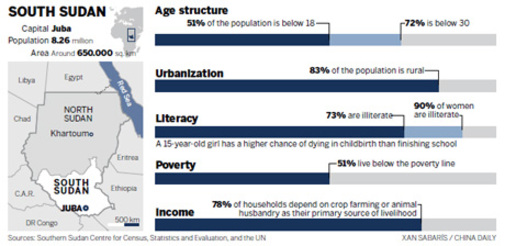 But before the economy can grow, the government's top priority may be making sure the territory under its control is secure and safe, as many southern Sudanese are still threatened by tribal clashes and militia wars.
John, the SSTV reporter from eastern Jonglei State, is a victim of such conflicts.
John's father, who was a soldier in the SPLM, was killed in Jonglei in January 2006 when his vehicle was ambushed.
After the tragedy, John had to withdraw from the United States International University in Kenya where he was a third year student on a TV production course, because his father's death meant he had a family of six to take care of.
John said his family "understood" that his father's death was a "sacrifice" for the region's peace.
Achieving peace still looks like a daunting challenge for the south Sudan government.
Clashes between the Ngok-Dinka and Misseriya ethnic groups over the control of Abyei on the north-south border are likely to continue.
And there is daily gunfire in the Upper Nile states, and occasionally in Western Equatorial State at the southern army, the SPLM and the civil population, according to the Citizen, south Sudan's daily newspaper.
In Jonglei, some 200 people, mostly civilians, were killed in February.
Talking about the situation, John said: "We hope peace and the border can be secured".