Africa calls and young entrepreneurs heed
2011/09/05
Updated: 2011-09-05
By Xu Junqian (China Daily)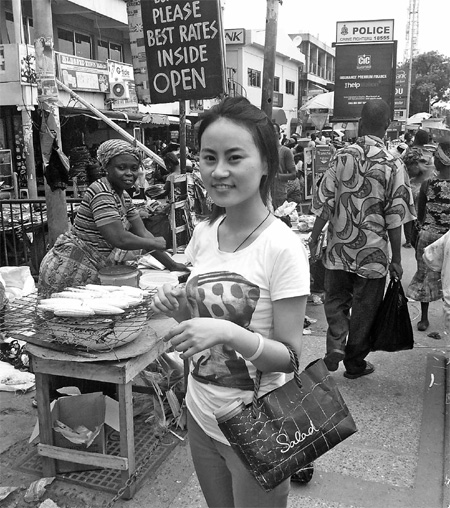 Yu Yichao from Yiwu, Zhejiang province, on her way to her office and store in Tudu Market, Accra, the capital city of Ghana. Provided to China Daily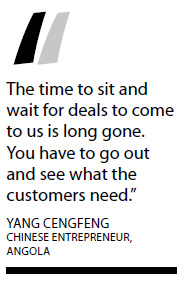 One says it's 'like China 30 or 40 years ago, filled with potential
SHANGHAI - The first thing 23-year-old Yu Yichao and her year older fiance, Yang Wei, did after their engagement in May was get packed and board a plane for Ghana in West Africa.
But they were not going in celebration. The couple were planning to start a new business there, as their parents and thousands of others had done 30 years ago in their hometown Yiwu, in East China's Zhejiang province, now the world's largest market for small goods.
"It's like what happened in China 30 or 40 years ago, filled with potential and opportunity," Yu told China Daily in an online chat, while tending to her handkerchief wholesale business in Accra, the capital of Ghana.
"Handkerchiefs are especially popular here. Almost everyone carries one, while in China, most people prefer paper tissues," said Yu, whose family made a fortune as wholesalers in Yiwu, as did her fiance Yang's family - but neither family in handkerchiefs or textiles.
Yu got the idea of going to Africa with her then-boyfriend a year ago, after graduating from college, and she paid several visits to Ghana, Nigeria and Uganda before making up their minds.
"We have some friends and relatives doing business (in Africa). They told us about their experiences and the lucrative market here, so we wanted to give it a try," she said.
With an initial investment of 3 million yuan ($470,000), mostly borrowed from - or sponsored by - their parents, the couple started buying goods from suppliers in Yiwu and reselling them to Ghanaian wholesalers.
"Foreigners are not allowed in the retail business here," Yu complained. "But because we are here, face to face with our customers, we are a step ahead" of the thousands of counterparts back at home.
Yu is not the only one to seek her fortune overseas, cutting out the middleman, usually a trade company, and squeezing a little more profit from the diminishing profit margin, which is pressed by the growing cost of labor, raw material and yuan inflation.
"We are seeing more and more young people from Yiwu coming to Africa," said Luo Lingjuan, the president of Africa Yiwu Chamber of Commerce and Industry, who has been in the perfume business in South Africa for eight years.
"I can't tell the exact number, as our chamber is usually waiting for people to come to us. But in South Africa alone, I have seen six or seven new young faces," she added.
Yang Cengfeng, for example, is another young man doing business in Africa. The 25-year-old Yiwu native left his hometown two years ago for Angola to expand his mother's bamboo charcoal product factory.
"The time to sit and wait for deals to come to us is long gone. You have to go out and see what the customers need," said Yang. "And our generation is well-qualified for that because we are competent in English or other foreign languages, although that may be the only advantage we have over our parents."
Traditionally, according to Luo, people from Yiwu are unwilling to leave their hometown to do business elsewhere because the city provides so many advantages.
"In the past, there was a saying widely believed here that by doing business in Africa one yuan can easily turn into $1. However, the number of Yiwu businesspeople in Africa remained steady in past decade at 500 to 600," Luo said.
But in recent years, a tougher business climate, caused by increasing costs and peer competition, among other things, pushed Yiwu people out, especially ambitious young entrepreneurs. Africa seems to be an ideal destination.
"For one thing, African people are more friendly towards Chinese. Second, the continent is still backward in manufacturing. They are in dire need of almost all kinds of daily necessities," Luo said.
Statistics from the Ministry of Commerce showed that in 2010, bilateral trade volume between China and Africa amounted to $126.9 billion, up 39 percent from 2009, and Chinese investment in Africa exceeded $1 billion last year.
According to Yao Jian, spokesman for the Ministry of Commerce, China has become Africa's largest trade partner, and Africa is the fourth-largest overseas investment destination.
However, young entrepreneurs from Yiwu have found venturing in Africa has its own pitfalls: high tariffs on imports, 40 to 50 percent for textiles; renminbi appreciation; difficulties adapting to the climate and lifestyle; thugs asking for protection money and extortion by some local authorities, Yu said.
"The knottiest problem is the strong competition that continues to grow," she said.
"With everyone eyeing the market here, more and more Chinese are flowing in, and more Africans are cutting us out by going directly to Yiwu," she added.
One solution provided by Luo is to expand the scope of the business and find more channels for business between Yiwu and Africa.
"That doesn't mean investing in programs such as building infrastructure or opening mines in Africa. I think it's better to focus on what we Yiwu people are good at: trading. But we can make it two-way," Yu suggested.
Luo herself has already taken the lead. Since the beginning of this year, she has taken advantage of her connection with Yiwu and South Africa, importing specialties from South Africa such as wine and jewelry, and reselling them to people in Yiwu.
"Not only can it supplement the low profit from exported goods, it can also offset the uncertainty of yuan appreciation during trading," she added.
Tao Houfu contributed to the story.
China Daily
(China Daily 09/05/2011 page16)