Chinese firms build bridges with communities in Africa
2011/11/03
Updated: 2011-11-03 07:30
By Li Lianxing (China Daily)
NAIROBI, Kenya - Bernard Ogalola, 52, joined China Road-Bridge Co (CRBC) in Kenya in 1986 and has been working for the company ever since, witnessing its change and growth in his country.
Whereas some Chinese employers in Africa have been criticized for their failure to transfer skills or provide many job opportunities to local people, Chinese companies in Africa have made progress in recent years by improving labor relations and shouldering more social responsibilities.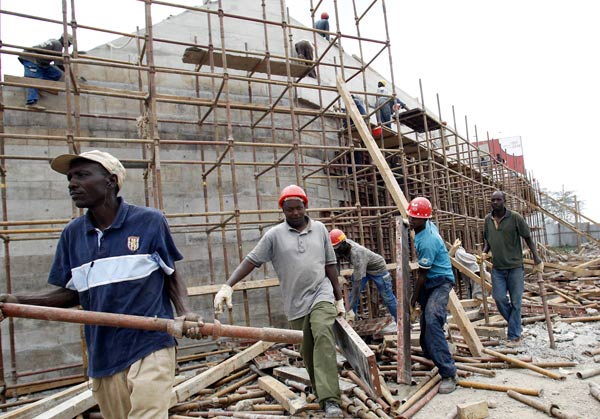 Kenyan workers at the construction site of a Chinese project in Nairobi. [Photo by Zhang Wei/China Daily]
Ogalola said his first impression of the company was its large number of Chinese employees and supervisors who couldn't speak English, which led to misunderstanding and even conflicts.
"We had to learn some basic Chinese as our supervisors rarely understood English at that time," he said.
"Now language is not a barrier, and we have regular channels to communicate," he said.
At CRBC, the ratio of Chinese and local employees is around 1 to 15. At its harbor project in Mombassa, there are 1,371 Kenyan employees and 45 Chinese staff.
"This is not only progress in terms of figures, the positions and posts they hold have also changed considerably," said Li Qiang, director of CRBC.
He said that nearly all of the company's technical staff are local employees, some of whom also occupy management posts.
Regarding the transfer of skills, Benson Wakhanu Mwanyande, who has been working for CRBC for more than 15 years, said Chinese companies offer more opportunities to learn.
"Compared with other projects I worked with, Chinese projects offer a chance to choose what field you like to develop yourself and, after a period, you can have work rotation to have a well-rounded knowledge," he said.
"Chinese companies started reforming their modern management skills only after the launch of the reform and opening-up policy," said Liu Guangyuan, Chinese ambassador to Kenya. "Their management capabilities have made great progress since then."
He said the management skills of Chinese companies are now more international and localized.
"They have realized the significance of localization and integration and are willing to shoulder more social responsibility," he added.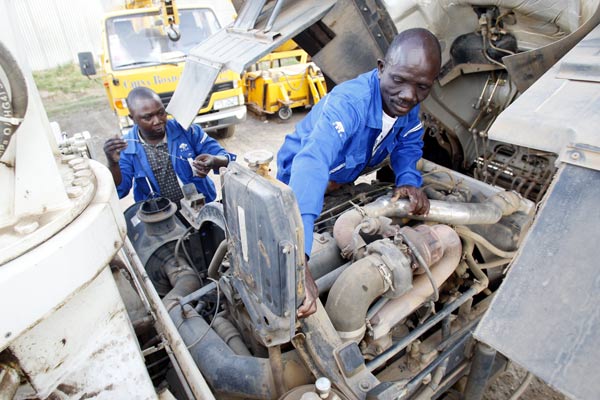 Chinese firms in Africa are providing job opportunities and training for local communities. [Photo by Zhang Wei/China Daily]
"It is a tradition that Chinese people never forget the origin when drinking water. So Chinese companies in Africa want to give something back to the local community," said Wan Dongsheng, secretary-general of Kenya-China Economic and Trade Association.
But although several aid programs for schools have been set up by Chinese companies such as telecom equipment firm Huawei, their social influence remains limited.
"We and other local Chinese associations are now planning some long-term social programs. Primary and middle schools are our primary target, and a program working with a local orphanage is under discussion," Wan said.
Li Anshan, a professor of African politics at Peking University, said that although Chinese companies have long been aware of their social responsibilities, "only state-owned or large enterprises have been doing a favorable job".
Foreign Ministry spokeswoman Jiang Yu said Chinese companies in Africa have created more than 350,000 job opportunities.
She said one of the reasons that led to various attitudes toward Chinese engagement in Africa is that too much attention was paid to the activities of a few companies.
"Another reason is unfamiliarity with China-Africa cooperation policies," she said, adding that cooperation between China and Africa is widely acknowledged as friendly, effective and mutually beneficial.