Li calls for investment in S Sudan
2012/04/28
Updated: 2012-04-26 07:16
By Cheng Guangjin and Zhou Wa (China Daily)
China will encourage more companies to invest in South Sudan and called on the country to create a better environment for investment and protect the safety of Chinese employees and their property, Vice-Premier Li Keqiang told visiting South Sudan President Salva Kiir Mayardit on Wednesday.
Kiir arrived in China on Monday as violence between the world's newest nation and Sudan intensified over the unresolved issues of oil revenues and their disputed border. Kiir cancelled a two-day visit to Shanghai, according to the foreign ministry, without elaborating on the reason.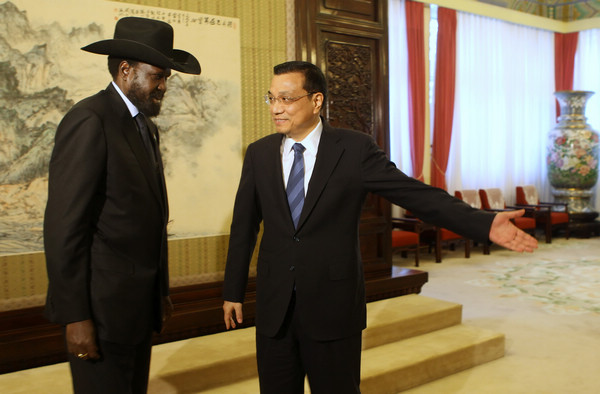 Vice-Premier Li Keqiang meets South Sudan President Salva Kiir Mayardit in Beijing on Wednesday. Kiir cut short his visit to China due to the rising threat of war at home. Photo by Xu Jingxing / China Daily
Li said China is ready to support South Sudan on issues concerning each other's core interests and major concerns. China will provide aid to the country to help its people, Li said.
Li also said China will encourage more competent companies with good reputations to invest in South Sudan, and hopes the South Sudan government can create a better investment environment and provide protection for the employees of Chinese companies in the country.
Li called on the South Sudan government to properly deal with bilateral cooperation in oil and ensure the stability and continuity of the oil cooperation.
Sudan and South Sudan, which broke away and became independent last year, have been unable to resolve disputes over oil revenue sharing and border demarcation.
South Sudan got most of Sudan's oil and provided some 5 percent of China's oil until it shut down production in January due to simmering tensions.
Kiir thanked China for the aid and said South Sudan values its friendly relationship with China.
South Sudan is ready to deepen cooperation with China in all areas and provide a safe and convenient environment for Chinese investment in the country, Kiir said.
Regarding the current tension between South Sudan and Sudan, Kiir called for a peaceful resolution instead of military force.
He also said resolving the border dispute with Sudan is critical to achieving peace.
"No border, no peace", Kiir said in a speech at Peking University on Wednesday morning.
According to Reuters, South Sudan accused Sudan on Tuesday of mounting air raids in its oil-producing border region, after weeks of cross-border fighting threatened to turn into full-blown conflict.
The two countries should work together to boost long-term development in the region, said Wang Jinglie, an expert on Middle East and North African studies at the Chinese Academy of Social Sciences.
"The two sides should settle the remaining differences and try to boost development in the region together," Wang said.