Companies look to trade fairs to expand sales across nations
Source:China Daily 2018-10-12
Chinese enterprises, in an effort to expand their overseas market share and remain afloat in the face of heightening domestic competition, are using trade fairs as a platform to introduce products to the African market and sign deals with distributors and agents.
During the recent Nairobi International Trade Fair in Kenya, 10 Chinese enterprises from Shenzhen, Guangdong province, that had rented an entire pavilion told China Daily they had participated in various trade fairs in African countries.
They have participated in exhibitions in Kenya, Nigeria, Ghana, South Africa, Uganda, Tanzania and Ethiopia and have seen their products gain in popularity.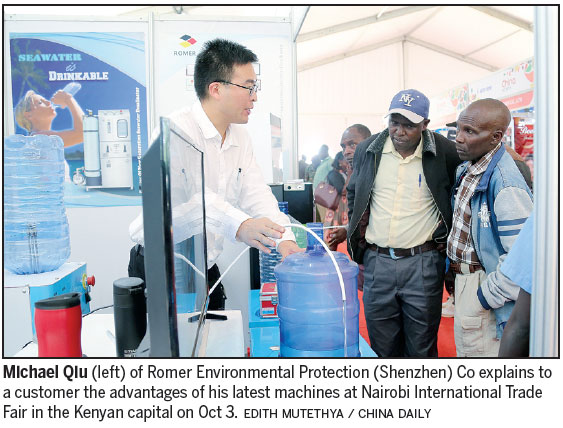 Most of the exhibitors said their main reason for participating in the exhibitions was to find and sign deals with distributors so they can increase their exports. They say most of their current African clients are retailers that buy small quantities.
By sourcing products directly from China, African businesspeople have cut out the middlemen and increased their profit margins.
Michael Qiu, the sales director for Romer Environmental Protection (Shenzhen) Co Ltd, whose company sells seawater desalination and bore-hole water purifier machines in Kenya, says his products have attracted keen interest from clients because they are affordable.
"Each machine goes for 250,000 Kenyan shillings ($2,480) and can desalinate/purify 3,000 liters of water per day. The machines' power consumption is 750 watts per hour, which is low, and their maintenance cost is 5,000 Kenyan shillings per month," he said.
In the next five years, the company, which already has an after-sale service office in Nairobi, hopes to cover 50 percent of the Kenyan market, making clean drinking water accessible and affordable to the public, and reducing the outbreak of waterborne diseases.
Qiu says that during last year's trade fair, Kenyan President Uhuru Kenyatta ordered 20 machines from his company.
"We are planning to make a proposal to the president to assist 100 primary schools and hospitals with the machines at a lower cost. We plan to partner with local organizations toward this initiative. Some organizations have already expressed interest," he says.
Additionally, the company is planning to extend credit to 10 Kenyans to own the machines and start businesses. The beneficiaries can pay half the cost ($1,250) as an initial payment and pay the remaining amount within six months. The company will provide free installation and technical support.
David Li, sales director for Shenzhen Junuo Electronics Co Ltd, which integrates research and development with the production and sales of such products as set-top boxes, digital video broadcasting receivers and VCD and DVD players, said Kenya is one of its key markets for set-top boxes.
"Currently, we export 20,000 set-top boxes to Kenya per month. The aim of participating in the 2018 trade fair was to sign deals with distributors," he says.
Li said his company has the capacity to produce 50,000 set-top boxes per day, so it can supply as many as possible, which is why the company wants to have several distributors across Africa.
"In addition to Africa, we also export our products to South America and Europe," he says.
Sunman Tan, the executive director of Tuking International Trading (Kenya) Co Ltd, which sells household goods, says the company already has a warehouse in Nairobi and is looking for distributors.
"The competition is very high in China, so we want to target the African market," he said. "The Kenya-China relationship is growing deeper, so we hope that our investment is secure and that we will breakthrough."
Shenzhen Very Good Hair Co Ltd, which produces hair products such as wigs, is looking to sign deals with distributors in Kenya in order to better serve its customers in the country.
Dora Ruan, the company director, says her company has more than 10 years' experience in designing, developing and manufacturing a range of hair products. "We offer wigs sewn with either synthetic or real human hair strands," she says.
edithmutethya@chinadaily.com.cn
(China Daily Africa Weekly10/12/2018 page25)