Family devoted to Africa's success helped lay tracks for its development
Source:China Daily 2018-10-12
Grandfather, grandson share a vision that has benefited many on the continent
Almost half a century ago, Li Yongzeng ("Li Senior"), now 80, was among tens of thousands of Chinese people who were working in Tanzania helping to build the 1,860-kilometer Tanzam Railway, or Tazara, linking landlocked Zambia to the Tanzanian port of Dar es Salaam.
Now, his 25-year-old grandson Li Shangyi ("Li Junior") works in Malawi on the "Access to satellite TV for 10,000 African villages" project, part of China's aid to Africa to build the information highway as announced by President Xi Jinping at the Forum on China-Africa Cooperation's Johannesburg Summit in 2015.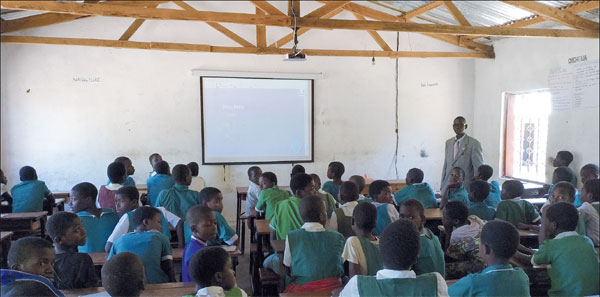 A teacher at Kuputu Primary School in Salima Town, Malawi, uses a projector provided by Li Shangyi's company, StarTimes. Photos Provided to China Daily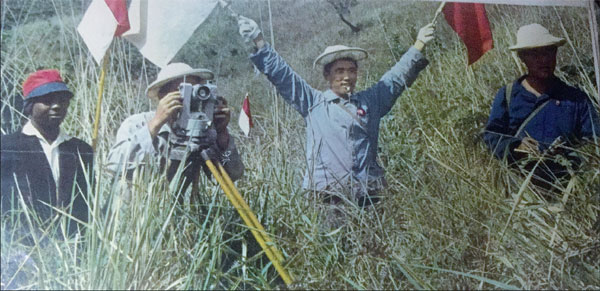 Li Yongzeng (with arms raised) surveys the land with his Chinese and African colleagues for the Tanzam Railway.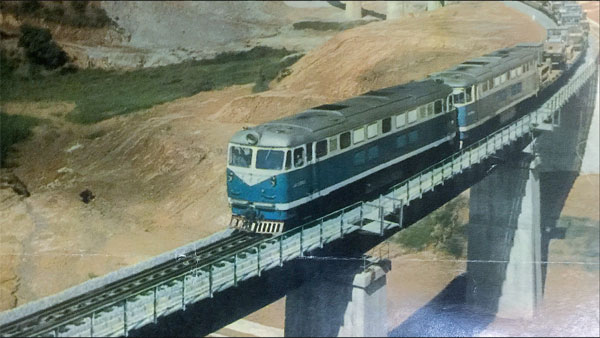 A cargo train runs on the Tanzam Railway shortly after the strategic project was completed in the 1970s.
When grandfather and grandson talk about their experiences in Africa, both are proud that they are personally involved in the country's friendship with the African continent.
They are among millions of ordinary Chinese and Africans who have been working together to promote the friendship forged by the two peoples through their common historical experience and in their struggles for national independence and liberation.
In fact, since Egypt became the first African country to establish diplomatic ties with China in 1956, the past six decades have witnessed the traditional friendship between China and Africa flourish.
The Tanzam Railway built with Chinese assistance is one of the landmarks of the China-Africa traditional friendship.
"The four years that I worked with my colleagues to build the Tanzam Railway is an unforgettable period in my life," the Li senior says.
His home has photos that he took in Tanzania when he worked on the railroad.
Though the pictures, mostly black and white, and the pages of his work records have turned yellowish, he takes them out from time to time to recollect those days.
Under each photo attached to an old photo album are a few words in neat handwriting recording the place and the time that the photo was taken.
Looking at the "valuable assets" he has treasured for more than 40 years, Li Senior seems to revisit history.
At the call of the Chinese government, he and his 100-plus colleagues left their homes in Tianjin in December 1970 and boarded the Yaohua passenger liner from Guangzhou in South China's Guangdong province to Dar es Salaam.
"The 13 days and nights of traveling on the sea was a terrible time indeed," he recalls.
Due to sea sickness, he vomited frequently. However, when the long, tiring voyage finally ended, he quickly dedicated himself to the work in Dar es Salaam.
"At that time, we considered it as a sacred undertaking to assist the development of African countries of the Third World," he says. "Nobody would step back in the face of difficulties."
The Tanzam Railway, also called the Freedom Railway, was financed and built with the help of China between 1970 and 1975. It was the largest single-item foreign aid project ever undertaken by China.
Western countries as well as the United Nations and the World Bank had all declined to fund the project, deeming it financially unviable, while China at that time fulfilled its promise to help construct the railway.
Running from Dar es Salaam to Zambia's Kapiri Mposhi, a major junction north of Lusaka, the railway is sometimes regarded as the greatest engineering effort of its kind since World War II. The railway took only five years to build and was finished ahead of schedule in 1975.
Before construction began, 12 Chinese surveyors traveled for nine months on foot from Dar es Salaam to Mbeya in the Southern Highlands to choose and align the railway's path.
Thereafter, about 25,000 Chinese were engaged in constructing the railway together with tens of thousands of Tanzanians. The rail line gave landlocked Zambia access to the ocean as an alternative to traditional export routes via rail lines to Rhodesia (now Zimbabwe), South Africa and Mozambique.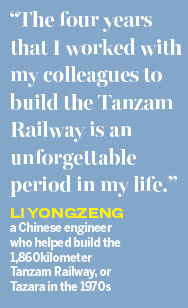 Compared with his grandfather, Li Junior's Africa tour was much easier. His made his first trip to Africa in 2012, when he was 19, and was sent to Tanzania to study the Kiswahili language on an eight-month university exchange program.
When he graduated from Communication University of China in 2015, he started working for the Beijing-based media company StarTimes and was soon sent to Tanzania to develop digital TV operations.
Last year, he was transferred to Malawi to work as a project manager on the "Access to satellite TV for 10,000 African villages" project in the East African country.
During his childhood, he was told the story of his grandfather in Tanzania, so he had knowledge about the African country, he says. "I felt naturally close to the people here when I started my work on the African continent."
However, for Li Senior, life in Tanzania was not easy. Together with his colleagues, he had to overcome various difficulties during his four years working on the railroad.
Construction camps were set up at every 60-km section of track, and workers were relocated as the work progressed.
Workers had to brave rain, sun and wind to lay the track through some of Africa's most rugged landscape, he recalls.
"Despite difficult conditions, we finished the railway in 1975 by upholding the spirit of 'self-reliance and arduous struggle' advocated by Chairman Mao," he says.
The work involved moving 330,000 metric tons of steel rail and the construction of 320 bridges, 23 tunnels and 147 stations, according to the retired engineer.
When the railway was finished in 1975, more than 160 people had sacrificed their lives, including 69 Chinese workers and experts. They are buried in a tomb in Dar es Salaam. The youngest was 24.
Tanzam Railway, which was built with Chinese assistance and by the Chinese, Tanzanian and Zambian people together, is known to the world as the Freedom Railway that helped African people gain national independence and liberation, according to State Councilor and Foreign Minister Wang Yi.
It is also the Friendship Railway that represents the everlasting friendship between the Chinese and African people, Wang said at the launch ceremony for the book A Monument to China-Africa Friendship: Firsthand Account of the Building of Tazara, in July 2015.
During his visit to Africa in 2013, President Xi talked about the Tanzam Railway in particular and made a special trip to the cemetery to honor the Chinese who sacrificed their lives for the building of the railway.
Xi stressed the need to carry forward the "Tazara spirit" characterized by mutual respect and equality, tenacity and perseverance and selfless internationalism, and to build on past achievements and make sure that the China-Africa friendship and cooperation produced more fruitful results in line with the changing situation.
Since the rail line opened, there has been industrial development along the line, including a hydroelectric power plant at Kidatu and a paper mill at Rufiji.
Li senior says that when he saw the train carrying cargo on the railroad, he felt all of the efforts by him and his colleagues had paid off.
Different from his grandfather's work, which involved an infrastructure project helping the African countries boost economic development and industrialization, the younger Li's work is providing information access to poverty-stricken villages on the African continent.
His company aims to provide 500 villages in Malawi with satellite TV access, with a view to enriching the cultural life of local African people, he says.
On Dec 4, 2015, Xi announced at the Johannesburg Summit of the Forum on China-Africa Cooperation 10 cooperation plans to build a China-Africa comprehensive strategic and cooperative partnership.
As part of a plan to strengthen China-Africa cultural and people-to-people exchanges, China will build five cultural centers in Africa and provide satellite TV reception to 10,000 African villages this year.
Thanks to this program, people in Ngolomi 1 village in Salima town, Malawi, for the first time had a chance to watch World Cup soccer matches this year.
When the village head sent him a message of thanks on July 16, Li Junior understood his work was not only of technical assistance, but was a people-to-people bond.
The message said: "On behalf of all the people of Ngolomi 1, I would like to thank the Chinese government for supporting us and providing facilities for us to watch the World Cup. We do not take it for granted, we really thank you. I believe you will assist the Ngolomi 1 village in many ways. Lastly, we wish all the Chinese people to have a healthy and industrious life, wherever they are."
Li Junior says, "I was touched by the message, though I talk with local people every day due to my work and they are very kind to me."
The village head told Li that his village is a base for cotton production, but the yields were not stable, since villagers lacked agricultural technique. However, satellite TV can provide villagers with a chance to acquire farming techniques, Li quoted the village head as saying.
Satellite TV actually brought profound changes to the village, Li adds. "Thanks to the satellite TV, they have a chance to see the outside world."
In June, when Li junior visited Chenyama village in Salima, he was touched by a handwritten slogan on a wooden board put up on a big tree in the village, which read "Say yes to quality education."
Li says he can feel the local people's aspirations to pursue better education to shake off poverty and change their destiny.
When he arrived at the primary school of the village, he was astonished to find that a teacher was using the projector TV that his company donated to teach the students mathematics.
"Every time I see the changes - a sense of gain for them - I feel my work is meaningful, since what I do can benefit others," Li says.
What's more, villagers can watch Chinese TV programs to learn more about Chinese culture and Chinese people's lives, he adds.
The program, which kicked off in August last year, is being piloted in more than 10,000 villages from 25 African countries, including Tanzania, Mozambique, Kenya, Nigeria, Uganda and Malawi.
Li says people-to-people contact and communication are important to draw the hearts of different countries closer."A simple word, a smile, a hug can help build the bonds with African friends," he adds.
To increase people-to-people exchanges, from 2015 to 2018, China provided Africa with 2,000 educational opportunities with diplomas or degrees. On top of this, 30,000 government scholarships and sponsored visits by 200 African scholars and study trips by 500 young Africans to China every year were arranged, and 1,000 media professionals from Africa were trained each year in China.
Li junior says his grandfather's generation made great contributions to laying the foundation for the China-Africa friendship.
"In the new era, we young people should contribute our own share to enabling the traditional friendship to pass on from one generation to another."
caodesheng@chinadaily.com.cn
(China Daily Africa Weekly10/12/2018 page16)