Ancient staple given new life in Africa
Source:China Daily 2018-10-12
For most Chinese, but especially pregnant women, infants and sick people, millet porridge is a popular choice because it is a mild-tasting, nutritious food. The word sheji, which literally means Earth god or millet god, has long been used to mean the nation - indicating that millet sustains life.
However, since 1949, millet has largely been replaced as a staple food by rice, wheat and corn, because these other grains have a higher yield per hectare and can therefore support a much larger population.
Now, Zhao Zhihai, a Chinese agricultural scientist known as "the father of hybrid foxtail millet", is not only helping the ancient grain regain its status as a staple for China, but is also sending it to Africa.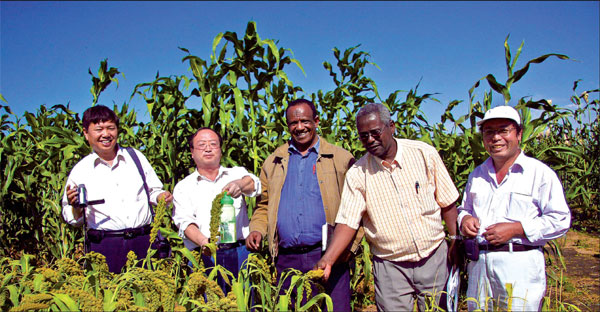 Zhao Zhihai (far right) checks the result of his millet test with local agricultural experts Ibrahim Mohammed (center) and Enriso Degu in Melkasa, Ethiopia, in 2008. Provided to China Daily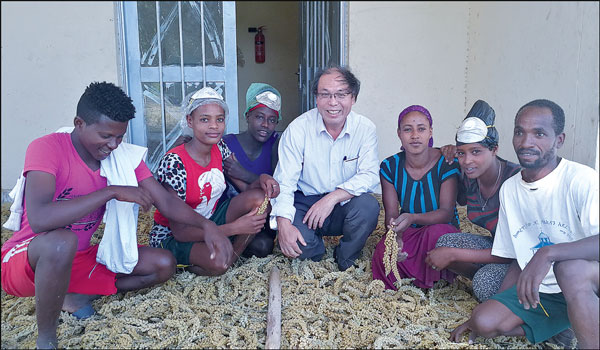 Zhao Zhihai (center) guides local workers in selecting and threshing harvested millet in the Southern Nations region of Ethiopia in December 2017.
Zhao, dean of the Zhangjiakou Academy of Agricultural Sciences in Hebei province, has nearly 40 years of research experience in the high-yielding, drought-resistant grain. He says that Zhangzagu, the hybrid foxtail millet cultivated by the academy, has features of high productivity, drought resistance and adaptability to otherwise barren soils.
"It is an ideal crop for Africa, especially the countries with wet and dry seasons and less fertile soil. Its significance is to reduce Africans' dependence on food imports, decrease average grain prices in the whole world, and expand the genetic map of our Chinese grain species," says Zhao.
Although he had considered bringing Chinese foxtail millet to Africa for many years, the 60-year-old scientist didn't have a chance to step onto the African continent until May 2008. It was then that he went to Ethiopia and signed an agreement with Ethiopia's Ministry of Agriculture and Livestock Resources to provide hybrid millet seeds for trial use. The country had a big harvest in the autumn of that year.
"They were so surprised and excited that they wanted us to sell them the parent of our millet breeding. Unfortunately, according to Chinese law, we cannot export our parent seed," he says.
However, the two countries came up with a solution: They would cooperate in scientific research rather than merely trade seeds. That's when the Zhangjiakou Academy of Agricultural Sciences began research hand in hand with the Ethiopian Institute of Agricultural Research, with the aim of cultivating a specific hybrid foxtail millet that could adapt perfectly to the climate and soil of the East African country.
The varieties of hybrid foxtail millet that were jointly-cultivated by the research organizations were approved by the country's National Seed Approval Committee and have been promoted and planted legally in the vast land of the Southern Nations region of Ethiopia ever since. The dry region cannot support most other crops.
For thousands of years, the staples for Ethiopians have been teff, which is a fine grain, and finger millet. Teff and the hybrid foxtail millet share much in common: Both are drought-resistant, mature quickly and are easily peeled. But foxtail millet produces six times the yield per hectare as teff, reaching 5.4 metric tons per hectare. Since 2015, experts from the Zhangjiakou Academy of Agricultural Sciences have stayed at farm training centers in the Ethiopian resort town of Wondo Genet and the cities of Awasa and Arba Minch, teaching local farmers to plant Chinese hybrid foxtail millet.
"Many local farm owners invite the experts to their farm, with the request to learn how to plant foxtail millet. Timely sowing and harvest with a high production helps a lot in years with natural disasters, such as drought and floods," he says.
Germame Garuma, deputy head of the Bureau of Agriculture and Natural Resource Management of Ethiopia's Southern Nations region, thinks foxtail millet is helpful for the water-stressed region, which suffers from chronic food shortages. He says the three farm training centers have turned out to be effective, and local governments plan to fund 30 more farm training centers throughout the Southern Nations region in the near future so more local farmers will benefit from learning farming techniques and primary millet-processing skills.
Zhao, the agricultural scientist, says: "It is not easy for local African governments to support South-South cooperation programs out-of-pocket. We have a plan similar to Uganda's 'one egg each day for everyone' - we want every household in the Southern Nations in Ethiopia to be able to afford a motorcycle by planting our Zhangzagu and engaging in agribusiness related to millet."
Zhangzagu has also brought hope to other African countries. For example, since last year, a farm in Tsumeb, Namibia, has planted 150 hectares of Zhangzagu Na3, which can adapt to the country's climate. The crop yield is high and the stalks can feed cattle on the farm.
Sudan's National Academy of Science sent three researchers to the Zhangjiakou academy in 2007 to learn how to grow Zhangzagu.
In addition, foxtail millet planted last year has yielded a big harvest in the China-Uganda Agricultural Cooperation Industrial Park. According to a report in the Ugandan newspaper New Vision, Opolot Okaasai, the director of crop resources in the Ugandan Ministry of Agriculture, Animal Industry and Fisheries, said fighting food insecurity and malnutrition is a priority for the country.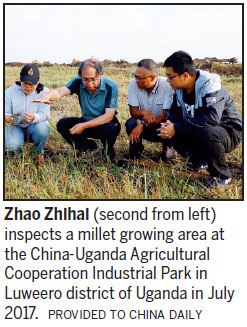 "Hybrid foxtail millet is fast-maturing and high-yielding. We have to feed our people," Okaasai was quoted as saying.
After years of engaging in the research and training program in Africa, Zhao believes there is no fixed, universal pattern for work in Africa, and situations vary from one country to another.
"We have to be really practical and adjustable in Africa. For instance, we cannot ask them to build big modern farms with tractors and combine harvesters like in China," he says.
Zhao says the best solution for the development of African agriculture is to cultivate and encourage farmers in African countries to learn new techniques and have better farming materials, rather than merely relying on Chinese entrepreneurs and investors. "To employ them is far from enough. What we want is to develop together. Once they have seen a higher income and a better life, they will work hard for themselves."
Zhao says that agricultural aid to Africa ideally should have the approach of working and thinking like an ordinary farmer.
"I have always kept in mind that if I were them, what would I do without the help of government and without the money to buy seeds and farming machinery?"
Contact the writers at xiaoxiangyi@chinadaily.com.cn
(China Daily Africa Weekly10/12/2018 page1)