New tourism offering for younger travelers in Kenya
Source:China Daily 2019-09-11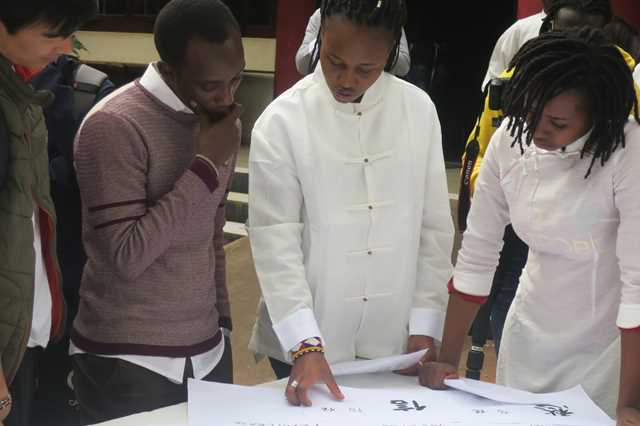 Participants in Instagram Tours learning calligraphy. [Photo by Lucie Morangi/China Daily]
Demand by Kenya's millennials for memorable experiences is driving innovation in the country's tourism sector, one of Africa's leading tourism markets.
To meet the expectations for eccentric and affordable tour packages, a local tour operator has launched offerings that promotes local culture, architecture, art and culinary experiences. Recently, the tour focused on the expanding Chinese culture in the capital city of Nairobi.
Known as the Instagram Tours, about 50 people, aged 32 to 42, embarked on a 24-hour excursion across the city themed, "New Perspectives." Most of the participants were content creators, journalists, artists, tourists and foreigners living in the city.
"The tour presents an opportunity, both personally and collectively, to co-create and connect people across the board by casting a spotlight on the heart, spirit and soul of the city whilst showcasing its diversity, beauty and flavors," said April Long, a Chinese lifestyle blogger and a co-organizer.
The excursion explored Nairobi's popularity as a cultural melting pot with shared diversity. Using a mini-bus used for public transport popularly known as matatu, which was decorated with local graffiti, the group started by visiting the Global Trade Center, a Chinese-owned mixed-use property that promises to change the city's skyline.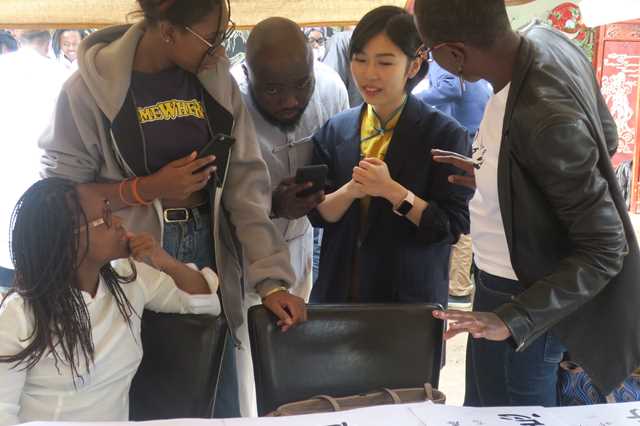 The local participants in Instagram Tours learning calligraphy as April Long, co-organizer (second from right) looks on. [Photo by Lucie Morangi/China Daily]
The tour then went to a Chinese restaurant to sample Chinese cuisine before moving to the National Museum and then a Chinese restaurant where the group also participated in activities such as Tai Chi and calligraphy. The group finished by attending a concert that lasted throughout the night.
Having lived in east Africa's largest city for the last four years, Long said it was time a platform existed to break a long-held stereotype between the locals and burgeoning foreign communities in Kenya.
"Everyone is in their own cocoon and have no idea how to reach out to another. This tour looks into the existing new cultures, architecture and entertainment that continuously shape our culture and lives as urbanites," she said.
Long said diversity is becoming increasingly important globally as the world shrinks under globalization. "The Chinese community does feel excluded despite wanting to reach out. They just don't know how. This is an ideal platform to learn the prevailing culture while sharing ours," she said.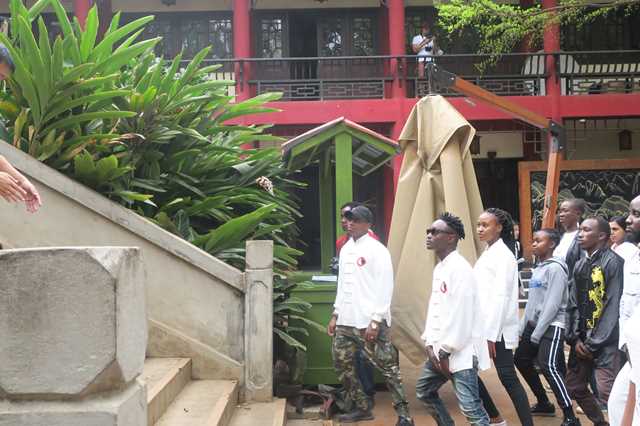 Participants in Instagram Tours learning Tai Chi movements. [Photo by Lucie Morangi/China Daily]
Long promotes local cuisine, sites, market and events in her blog. Her goal is to provide as much information about the local environment as possible to ensure the Chinese community living in Kenya does not feel excluded. "That they feel part of the country," she said.
The local participants said the tour was an eye-opener. Grace Shiro, said she had learned new perspectives about Chinese culture in Kenya. "There are definitely a lot of things that are new and we do not know," she said.
Morris Kiruga noted that tour packages in Kenya are not designed around the millennial community. "The city is expanding and one can never run out of new experiences and cultures. There needs to be much better response to cater for this group," he said.