Wuhan medics share COVID-19 information with Kenyan medical teams
Source:China Daily 2020-03-24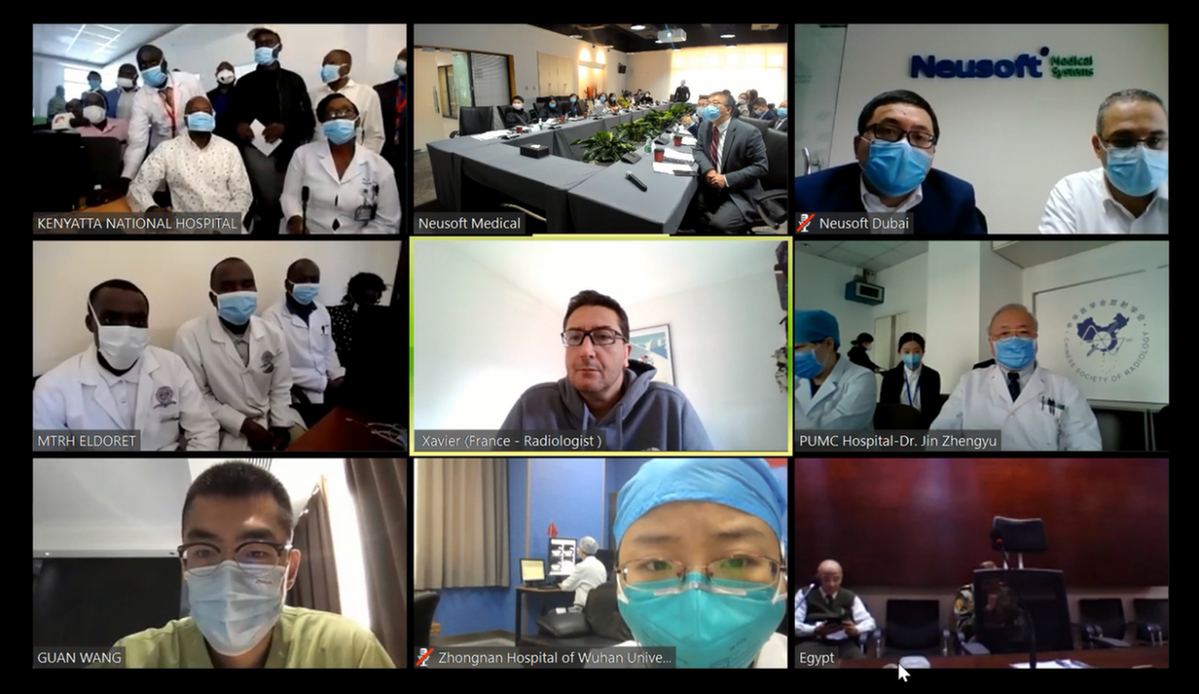 Chinese medical experts conduct online communication with their Kenyan counterparts on the imaging diagnosis of COVID-19 on March 22, 2020. [Photo provided to chinadaily.com.cn]
Chinese medical experts conducted online communication with their Kenyan counterparts on the imaging diagnosis of COVID-19 on Sunday, sharing the initial diagnostic criteria for the epidemic as a way to help Kenya and other African countries quickly master the diagnosis and treatment methods of the disease.
The consultation team included radiological medical experts from Wuhan Union Hospital, senior officials from Kenya's Ministry of Health and doctors' representatives, as well as imaging experts from Neusoft Medical.
Mutahi Kagwei, Kenya's health minister, said the online communication is very significant for Kenya and the interaction with Chinese doctors helped them prevent and control COVID-19 and reduce its impact in Kenya.
As of Sunday afternoon, there have been 15 confirmed cases of COVID-19 in Kenya.
"How to diagnose patients quickly and accurately is key to preventing the spread of novel coronavirus. In Wuhan, CT is widely used as an important diagnostic tool. We have rich diagnostic experience," said Wang Guan, the radiology expert at Wuhan Union Hospital.
He explained the clinical treatment experience, especially radiology work in clinical diagnosis, and a typical lung CT image of a patient with novel coronavirus, giving a detailed introduction of the patient's lesion characteristics and diagnostic technique.
Wu Shaojie, the CEO of Neusoft Medical Systems Inc., who organized the international exchange, said 37 counties in Kenya have adopted China's high-end medical imaging equipment, imaging cloud, services and clinical application training and other one-stop solutions.
"The experience sharing of imaging diagnosis with African physicians is helpful for the fight against the epidemic. I hope that we can strengthen the exchange so as to help people from around the world."
Li Dingdian, Li Jia and Liu Na contributed to this story.