Dialogue calls for closer Sino-Ethiopian ties
Source:China Daily 2019-12-03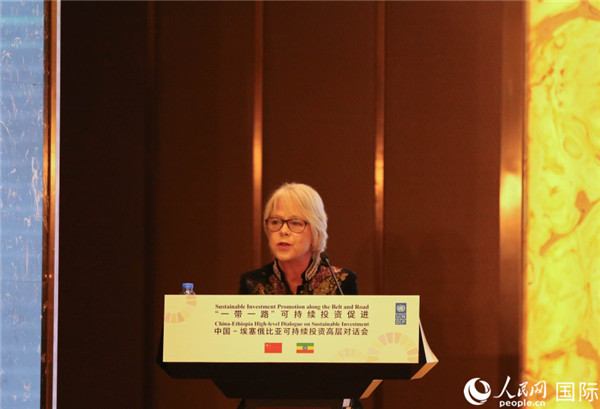 The China-Ethiopia High-Level Dialogue on Sustainable Investment, is held in Beijing on Nov 29, 2019. [Photo/people.cn]
  China and Ethiopia should work together to strengthen bilateral cooperation, as well as promote sustainable development in the African country, according to a high-level dialogue.
  The China-Ethiopia High-Level Dialogue on Sustainable Investment, held in Beijing on Friday, focused on experiences in advancing sustainable investment under the framework of the Belt and Road Initiative.
  It was organized by the United Nations Development Program, with support from China's Ministry of Foreign Affairs, the Chinese embassy in Ethiopia, and the Ethiopian Investment Commission.
  The high-level dialogue zoomed in on China's relevant experiences in overseas economic and trade cooperation, and discussed how to maximize development dividends of foreign investments at national, regional and global levels.
  Aschalew Tadesse Mecheso, an official with the Ethiopian Investment Commission, said most countries, especially developing countries like Ethiopia, are seeking foreign direct investments, while also caring about "the sustainability of each investment project".
  "Each country should have a policy to consider how to evaluate investment projects prior to implementation," he said. "We must ensure that investments are aligned with our sustainable development goals."
  Guo Xuejun, deputy director-general of the Department of International Economics of the Chinese foreign ministry, said China looks forward to working with Ethiopia to initiate more connectivity projects that are high-quality, sustainable, resilient, affordable, inclusive, accessible and broadly beneficial.
  "We hope the UNDP program will help Ethiopia to better engage in high-quality BRI cooperation, and achieve stronger, more sustainable economic growth," Guo said.
  Sun Lihui, a director at the China Chamber of Commerce of Metals, Minerals and Chemicals Importers and Exporters, said stability, transparency, fairness and predictability are four important aspects Chinese investors care about most.
  "A safe and stable public governance environment is a prerequisite for investment, otherwise it will bring a lot of distress to the property and personal safety of foreign companies in Ethiopia," he said.
  Sun also listed several investment challenges in Ethiopia, such as the opaqueness of local tax policies, as well as laws and regulations, the lack of continuity in investment incentives, the complicated procedure of applying foreign exchange guarantees and employee residence permits.
  "I hope related parties and stakeholders can provide Ethiopia more help to improve its investment environment," Sun said.