Macao a 'bridge' that links China, Mozambique
Source:China Daily 2019-12-19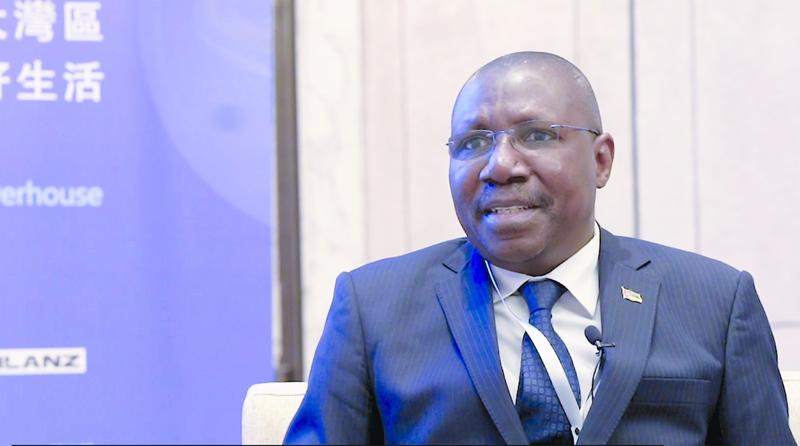 Rafael Custodio Marques, Mozambique's consul general in Macao, said the Guangdong-Hong Kong-Macao Greater Bay Area offers "a lot of opportunities for cooperation between Mozambique and China" in an interview with China Daily. CHINA DAILY
The establishment of the Macao Special Administrative Region in 1999 was a boon to Portuguese-speaking countries that wish to deepen relations with China, Mozambique's envoy to the SAR said.
Rafael Custodio Marques, Mozambique's consul general in Macao, said the former enclave, which had been under Portuguese rule for centuries, serves as a bridge between China and the southern African country.
"We have very good relations with China in general, Macao in particular, because we (share a) common (history) and also in terms of language, because Mozambique is a Portuguese-speaking country," the diplomat told China Daily in an interview.
Marques called Macao a "platform for cooperation" between China and Lusophone countries. "It's important for us. We use Macao as a forum for opportunity, (to drive) investments to Mozambique."
He said the Guangdong-Hong Kong-Macao Greater Bay Area also offers "a lot of opportunities for cooperation between Mozambique and China".
Macao is part of this initiative and, as such, can play "a valuable role" in encouraging Guangdong and Hong Kong investors to go to Mozambique, he said.
Diplomatic relations between China and Mozambique began in 1975, soon after the former Portuguese colony attained independence.
China is one of Mozambique's biggest trading partners. Bilateral trade between the two countries surged 36 percent last year to $2.5 billion, according to the Chinese Commerce Ministry.
China has emerged as one of Mozambique's biggest investors and donors. China financed the construction of the Maputo-Katembe Bridge — the longest suspension bridge in Africa — as well as the renovation of a fishing port in the central Mozambique city of Beira.
China also extended finance and medical help after cyclone Idai hit Mozambique in March.
Mozambique set up its consular office in Macao in 2014. Marques said the city's growth has been steady in the past few years.
He said Macao has hosted a lot of conferences and international fairs, while the number of tourists has continued to rise.
Although Macao is known for its gaming industry, it's also diversifying its economy by investing in the convention and exhibition sector. Last year, Macao hosted 1,425 meetings, conferences and exhibitions — 46 percent more than in 2017.
Marques said one of the areas that has helped Mozambique strengthen its ties with China is the Forum for Economic and Trade Cooperation between China and Portuguese-speaking Countries (Macao).
The organization, better known as Forum Macao, was launched in 2003 to promote trade and economic exchanges between China and Portuguese-speaking countries. The Lusophone countries are Angola, Brazil, Cape Verde, Guinea-Bissau, Mozambique, Portugal, Sao Tome and Principe and East Timor.
Marques said part of Forum Macao has helped Mozambique in human resources development. Mozambican government employees and university students have been to Macao for training, while Mozambican artists have also visited the city as part of the cultural exchanges initiated by the forum.
Forum Macao organizes the annual Cultural Week of China and Portuguese-Speaking Countries, featuring art exhibitions, food fairs, and theater and dance shows.