African governments take action as virus spreads across continent
Source:China Daily 2020-03-23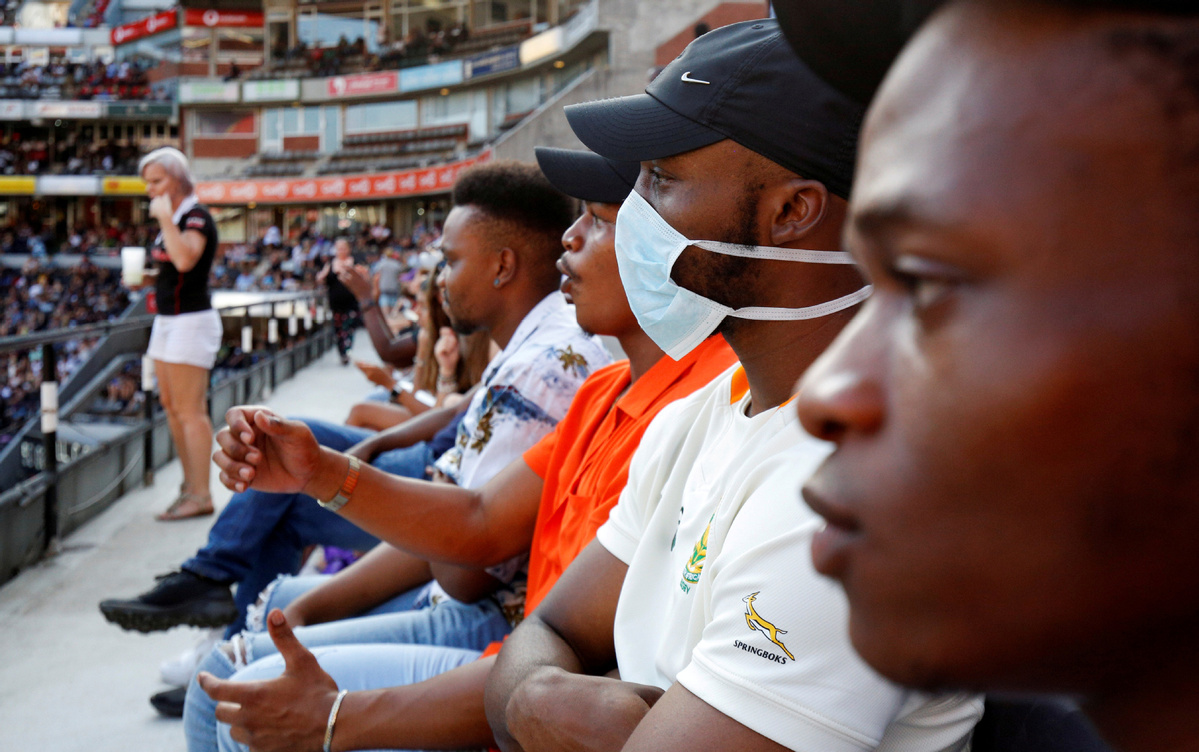 A fan wears a face mask during a Super Rugby match between the Sharks and the Stormers as it was announced that Super Rugby will be put on hold after this weekend's matches over the coronavirus outbreak in Durban, South Africa, March 14, 2020. [Photo/Agencies]
African governments swing into action as the coronavirus spreads further across continent
As novel coronavirus continues to spread across the world, Africa remains the least affected continent, with the Africa Center for Disease Control saying the total figure of those infected on the continent is 354, with Egypt having the highest cases at 126, followed by South Africa with 61.
As the number of cases increases, African governments have started taking measures aimed at preventing the spread of the virus within their countries.
Speaking at his Harambee House office on Sunday, Uhuru Kenyatta, Kenya's president, suspended the entry of all travelers from coronavirus-affected countries while confirming that two more cases of the virus had been confirmed.
"Today, we have received confirmation of two more cases of the coronavirus.
The two have tested positive as a result of coming into contact with the first patient. Our health officials have already moved them into the Kenyatta National Hospital isolation facility," Kenyatta said. "We are now suspending travel for all persons coming into Kenya from any country with reported coronavirus cases.
He added that only Kenyan citizens and foreigners with valid residence permits will be allowed to come in, provided they proceed to self-quarantine or to a government- designated quarantine facility.
Cyril Ramaphosa, South Africa's president, also made a similar announcement in a statement released on Sunday. While declaring a national state of disaster, Ramaphosa said that his government has decided to take urgent and drastic measures to manage the disease, protect the people and reduce the impact of the virus on the economy.
"We are imposing a travel ban on foreign nationals from high-risk countries, such as Italy, Iran, South Korea, Spain, Germany, the United States, the United Kingdom and China, as from March 18, 2020," Ramaphosa said. "We have cancelled visas to visitors from those countries from today and previously granted visas are hereby revoked."
In Ghana, a statement released by the country's Ministry of Information on Sunday also introduced travel restrictions.
"Any traveler, except for Ghanaian citizens and persons with residence permits, who, within the last 14 days, has been to a country that recorded at least 200 cases of Covid-19, will not be admitted into the Ghanaian jurisdiction," Kojo Oppong Nkrumah, Ghana's Minister of Information, said in the statement.
As African governments step up measures to stop the virus, Senegal and Kenya announced school closures, the Democratic Republic of Congo has imposed quarantine measures on travelers from Italy, France, China and Germany and Rwanda, Uganda and Mali have imposed similar quarantine measures for European travelers.
According to the Africa-CDC, confirmed cases in Africa are as follows; Egypt 126, South Africa 61, Algeria 54, Morocco 28, Senegal 24, Tunisia 20, Ghana 6, Rwanda 5, Cameroon, Ethiopia and Cote d'Ivoire 4, Kenya 3, Nigeria, Democratic Republic of Congo and Namibia 2, while Sudan, Central Africa Republic, Congo, Equatorial Guinea, Gabon, Guinea, Mauritania, Swaziland and Togo all have one case each.