African officials: Guangdong info flow shows goodwill
Source:China Daily 2020-05-20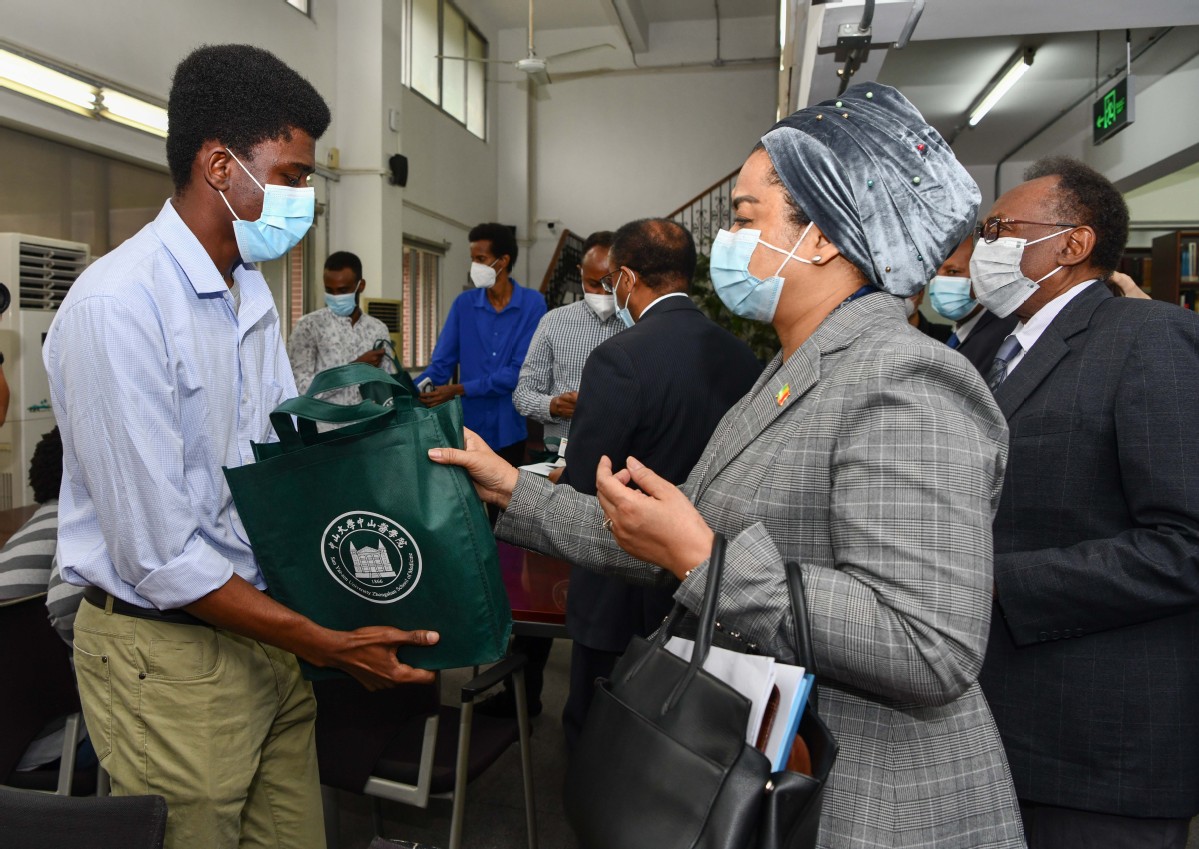 Alima Danfakha Gakou, consul general of Mali in Guangzhou, hands a healthcare package to a student of Sun Yat-sen University in Guangzhou, Guangdong province, on April 18, 2020. [Photo/China Daily]
Alima Danfakha Gakou, Mali's consul general in Guangzhou, highly appreciates the communication mechanism between the Guangdong provincial government and consulates general of African countries, and the measures taken by the provincial authorities to counter the coronavirus epidemic.
She especially appreciates the current daily meetings among consulates general of African countries and provincial and city governments to address problems concerning Africans in Guangdong during the epidemic.
These measures show the importance the provincial government places on issues concerning African people and consulates general in Guangdong, she told journalists in Guangzhou on Saturday.
The problems some Africans encountered had to do with insufficient communication between local governments and consulates general before some measures against the epidemic were taken and the consequent failure of consulates general to promptly forward such information to African people, she said.
When the anti-epidemic measures were put in place, some information was not fully communicated to service providers on the ground, said Teferi Melesse Desta, consul general of Ethiopia in Guangzhou.
He called on people to follow the information released by health commissions and governments and cautioned that rumors lead to misunderstanding and confusion.
Gakou said she appreciates the strong steps the Chinese government took to curb the spread of the virus, and African consulates general have advocated that Africans abide by these measures to safeguard their health.
Since the fight against the virus began, Africans have stood side by side with Chinese people in the effort and have expressed their support for China.
African countries have received donations of anti-epidemic supplies from Chinese governments and companies and have embraced Chinese medical expert teams.
This highlights the spirit of Sino-African solidarity and mutual aid, she said, adding only through solidarity and Chinese support can Africa overcome the epidemic.
On Saturday, Zhang Xin, deputy governor of Guangdong, Chen Chunsheng, Party secretary of Sun Yat-sen University, and officials from various African consulates general met at the university with some African students.
Seventy-nine students from Africa are enrolled at Sun Yat-sen University and 36 of them were staying on campus.
Eleven African countries have consulates general in Guangzhou, and more than 117,000 foreigners live in Guangdong province and 6,700 of them are African, according to the provincial government.
Guangdong authorities consider the health and safety of resident expats highly important and have adopted equal health management measures for all residents during the epidemic and firmly oppose any discriminative acts, Zhang said.
Sino-African friendship is deeply rooted and unbreakable in Guangdong. During this special time of countering the novel coronavirus epidemic, China and Africa must stand united to win the fight, he said.
The provincial government issued an open letter in Chinese, English and French on Saturday, urging Chinese and expats to work together to win the fight against the epidemic.