China defended over 'colonization' claims
Source:China Daily 2018-10-25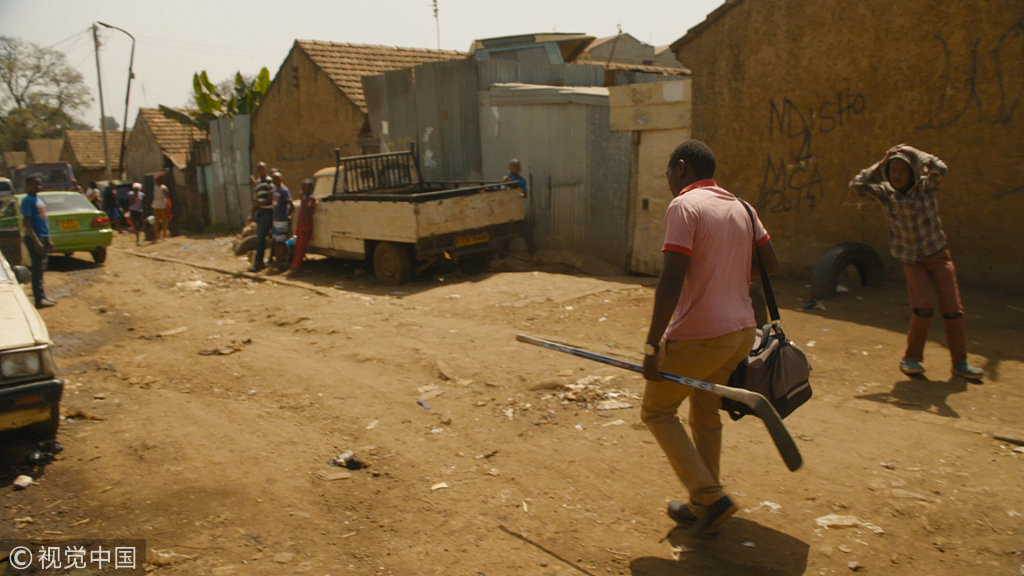 A man walks to the ice rink in Nairobi, Kenya, file photo taken on Oct 16, 2018. [Photo/VCG]
  Accusations are little more than a smear campaign, seminar hears
  China has no intention of colonizing Africa, nor does it intend to trap the continent into debt, according to African experts attending a seminar in Nairobi, Kenya.
  The event, centered around governance, peace and security, was held on Friday and gathered experts to discuss issues concerning the cooperation between China and Africa.
  Claims of China's "colonization" of the continent are frequently leveled by Western media as a criticism of China-backed infrastructure projects and development loans.
  However, Peter Kagwanja, CEO of Nairobi-based pan-African think tank Africa Policy Institute, was among several experts who described this attitude as anti-Chinese propaganda.
  Deep connection
  He said that the current engagement between China and Africa is the dialogue between two civilizations that have a deep connection, noting that, unlike Western countries, China has never subjugated African people or taken them as slaves.
  Kagwanja said: "What we can see in our museums is a robust trade between China and Africa, the exchange of intellectual ideas. Some African scholars have studied in China for several years and they don't find any evidence of 'Chinese colonization'."
  He also pointed out that China and Africa share a history of humiliation, particular in recent centuries. China, too, lost territory, freedom and integrity, and between the First Opium War in 1840 and 1949 was a poor nation because of occupation by various countries.
  Kagwanja was echoed by Li Xuhang, charge d'affaires of Chinese embassy to Kenya. Li said China has always respected the sovereignty of countries when participating in African security affairs.
  "It is always China's sincere wish to promote the peace and stability in the country and the region concerned, never to seek geopolitical interests of its own.
  "China has always advocated the leading position of the United Nations, the African Union and relevant regional organizations in resolving peace and security issues in Africa. China supports the idea of African people using African ways to solve African problems."
  He added that the root causes of instability and conflict lie in poverty and underdevelopment, which remain the keys to solving all problems, including security issues.
  "Only by supporting African countries in achieving coordinated economic and social development and promoting national integration and unity can we fundamentally eradicate the breeding ground for instability," he said.
  Martin Kimani, director of Kenya's National Counterterrorism Center, said that many African countries have showed interest in addressing root causes of instability that includes poverty and inequality.
  "The Chinese development model that has focused on wealth creation and elimination of mass unemployment is at the core of Africa's bid to promote peace and security," said Kimani.
  Peace agenda
  Christopher Chika, director of Asia and Australasia Directorate at Kenya's Ministry of Foreign Affairs, said that China's participation in Africa's peace and security agenda has redefined bilateral ties with the continent.
  "The emerging consensus is to realign China-Africa engagement with our continent's peace and security agenda as we aspire to silence the guns," said Chika.
  "China has invested heavily in Africa and therefore it is in its interest to promote peace and security that is key to improve the business environment."
  Experts also rejected the notion of a so-called debt trap, with Anzetse Were, an African development economist and commentator, describing it as a "smear campaign".
  "Allegations of China's business model in Africa and around the world being a debt trap, or Chinese nationals being racists or out to exploit natural resources of African countries is a deliberate smear campaign against the success of China's development agenda on the continent," said Were.