Africa can turn floods curse into a blessing
Source:China Daily 2020-01-15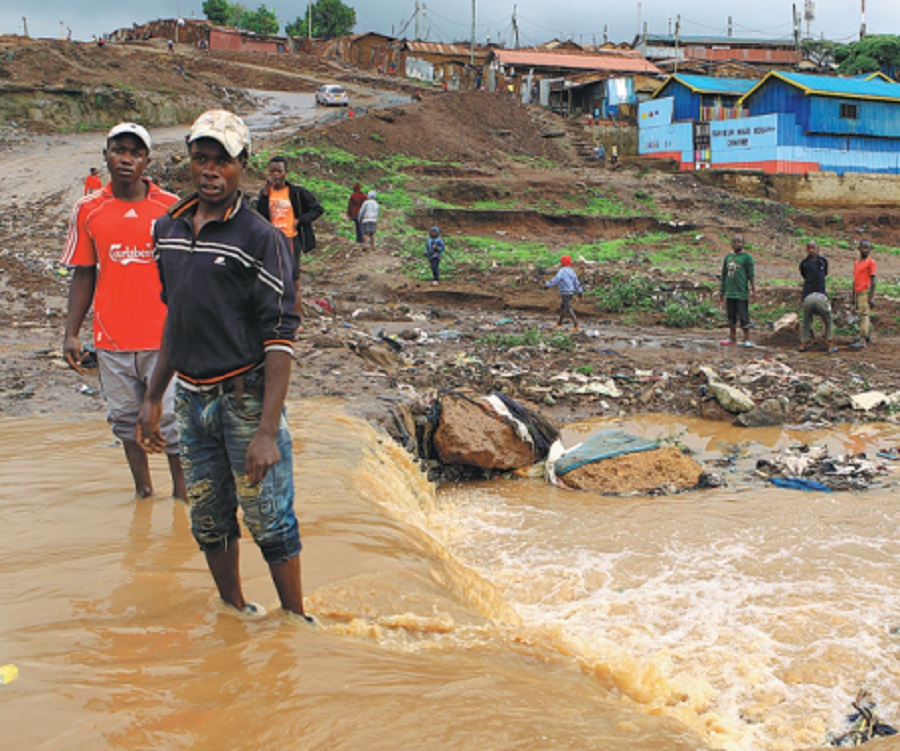 People stand in floodwater on Tuesday near a river in Nairobi, Kenya. [Photo/Agencies]
Massive floods experienced by many African countries over the past three months highlight the continent's vulnerability to extended bouts of heavy rains, but also the potential to turn such climate patterns into an advantage.
The recurring curse of inundating rains can be transformed into a blessing, say analysts, noting that large parts of Africa also regularly suffer long periods of drought.
The United Nations Educational, Scientific and Cultural Organization said African countries have massive potential in what it terms rainwater harvesting, which includes dam building among other measures.
Elijah Kimani, the executive director of the Institute of Environment and Water Management, said that countries in times of heavy rainfall should harness upstream water sources, as a means of reducing the impact of surface run-off upstream that all too often causes havoc in downstream areas.
He said that the goals of water harvesting can be realized through the construction of mega-dams in the upstream reaches of rivers. Such dams can be used to store the resource and then supply water to communities downstream during droughts.
"Having a reservoir will help in regulating water and ensure environmentally sound flows throughout a river. This will sustain aquatic animals, curb floods and ensure adequate water supply for all throughout the year," Kimani said.
Kimani said there is also a need to invest in early-warning systems to reduce the impact of floods. "If we have well-coordinated community early-warning systems, some of the dangers caused by flooding can be addressed," he said.
He said effective water harvesting would enable Africa to have adequate water supplies not only for household use but also for irrigation, ensuring food security, improved livelihoods and increased sources of sustainable revenue.
He commended Botswana and Kenya for their water harvesting projects, saying that within years the countries will be water secure-and that damaging floods will be history.
Bancy Mati, director of the Water Research and Resource Center of Jomo Kenyatta University of Agriculture and Technology, said Burkina Faso had done well in its rainwater harvesting efforts.
In the 1970s, the Burkina Faso government developed rainwater catchment technologies and systems aimed at retaining run-off water in micro-reservoirs in order for herders to provide water for their animals during the dry season.
Such efforts are on top of measures to improve soil quality in order to boost crop yields.
"Today, Burkina Faso exports food to neighboring countries, thanks to the rainwater catchment programs," Mati said.
Lesson from London
Mati highlighted efforts in London that could serve as an example for Africa. She said that although the River Thames provides drinking water for the British capital, the authorities have built large underground tanks where excess rainwater can be collected. The tanks help to ward off flash flooding in the city.
The rainwater is used for purposes such as watering gardens and flushing toilets.
"Ironically, in Africa, there will be floods but inside the house, the taps are dry. We should borrow a leaf out of London's book," Mati said.
Where flooding is caused by rivers breaking their banks, Mati said countries in Africa should employ what she calls river training, and cites the Netherlands as an exponent.
She said that river training entails the straightening of the waterway so that it doesn't have a meandering pattern, enabling a build-up of silt, which can contribute to flooding. Such works minimize the risks that a river will break its banks after heavy downpours.