China, Egypt partner for better future
(2016-12-09)
Mega project east of Cairo envisions a smart capital city filled with opportunity
Cairo's new capital city project is a momentous endeavor that may provide answers to many of Egypt's future needs. It will also help Egypt confront a number of urban and demographic challenges.
Government officials say the project will create the city of the future that can achieve many economic and developmental goals but most important build national spirit, foster consensus, provide for long-term sustainable growth and address various issues faced by Egypt. It will create more places to live, work and visit. Construction is already underway: Engineers have begun work on infrastructure, including bridges and 210 kilometers of roads.
The first phase of the project will see government ministries and residential blocks rise from the sand. The first residents could move in within five years. The official website of the project says the goal is to create a global city with smart infrastructure for Egypt's future, which will provide a multitude of economic opportunities and offer a distinct quality of life.
The project also has a social dimension, creating new destinations designed to adapt and embrace the natural setting while being diverse in its uses and welcoming to all income levels and cultures.
The vision focuses on best global practices in design, ecology and culture. Considering the land constraints and population density, the city will be built with a variety of medium- and high-density districts, with over 10,000 km of boulevards and streets; and the city will be pedestrian-friendly. It will have vibrant recreational spaces to bring people together and will be buzzing with life day and night, according to planners.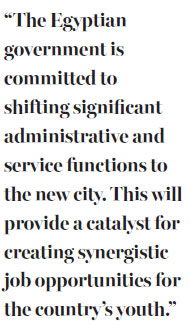 They say it will follow the best practices in design, ecology and culture and will offer a set of strategies to guide growth over the next 40 to 50 years. Therefore, it must be flexible enough to adjust to future changes. It calls for a new destination designed to adapt to its natural desert setting.
The Egyptian government is committed to shifting significant administrative and service functions to the new city. This will provide a catalyst for creating synergistic job opportunities for the country's youth. To draw people to the new capital city, a series of key catalyst developments will be established at its core.
Who is partnering with Egypt and willing to share knowledge and provide financing? Who better than a reliable old friend? China is an old and committed great partner to Egypt. As such, Chinese developers will largely fund the megaproject.
The China Fortune Land Development Co agreed to provide $20 billion (18.8 billion euros; 15.8 billion) for the project, after a meeting between heads of the company and Egyptian President Abdel Fattah El Sisi.
This follows a previous commitment of $15 billion from another Chinese state-owned company, bringing the project close to its $45 billion budget requirements for Phase I.
The 700 square kilometer city has become a priority for many government officials in correcting Cairo's extreme crowding, pollution and rising housing prices.
Proposals for the city include housing for 5 million people, over 1,000 mosques, smart villages, industrial zones, a 5,000-seat conference center and the world's largest park. Interest in the project has been brisk. An Indian company, for example, is planning a vast medical center and university, while a Saudi firm intends to build a 12.6 hectare mosque and Islamic museum.
According to the project's official website, "This is a rare opportunity for the people of this vibrant nation to create a strategy and a bold vision for a new capital city. This is a momentous endeavor that will build national spirit, foster consensus and provide for the country's sustainable long-term growth."
I personally think the driving force behind this project and many other mega infrastructure projects is the determination and new spirit that exists nowadays in Egypt. The completion of the new self-financed Suez Canal in one year carries the proof.
The author is a former assistant foreign minister of Egypt and a career diplomat.
(China Daily Africa Weekly12/09/2016 page8)